Introduction
JavaScript is one of the most popular programming languages in the world today. It's used for web development, as well as for building desktop applications and games. If you want to learn JavaScript, there are plenty of sites that can help. Here are five great options:
Here are Top 5 Websites to Learn JavaScript in 2022:
FreeCodeCamp is an online learning platform for web development. It offers you a free, comprehensive course that teaches you how to build websites and apps with JavaScript. The courses are provided by the best online teachers in the world, who have been teaching programming since 1998.
You can take any one of their courses or learn from scratch on your own if you want to become a self-taught developer!
W3Schools is one of the oldest and most popular websites to learn JavaScript. It was founded in 1998 and has been providing free tutorials for professional programmers since then. The website has a good user interface, but it also has some issues with its content being outdated.
It's best for beginners who want to learn the basics and fundamentals of JavaScript before they start working on larger projects with it.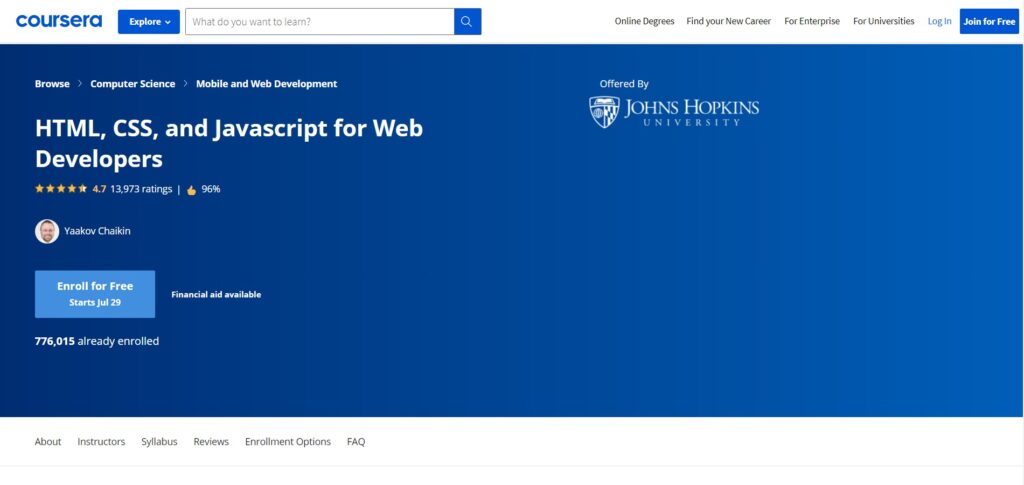 Coursera is a website that offers online courses for free. Coursera has been around since 2012 and now has more than 1 million students enrolled in over 100 different courses from universities like Stanford, Yale, and MIT.
The courses on the site range from beginner to advanced levels and cover topics such as JavaScript programming fundamentals with web development tools like jQuery or Javascript Databases with MongoDB (and more). You can also find video tutorials on how to build your own apps with JavaScript using frameworks such as AngularJS or ReactJS (and many more).
CodeCademy is a free website that teaches you how to code. It offers over 200 interactive coding exercises in JavaScript, HTML, and CSS. CodeCademy is a great place to learn the basics of programming.
The best part about this website is that it's completely free! You can create your own account or log into an existing one and start learning right away without spending any money on it at all!
Learning JavaScript online is the most effective way to learn the language. You will have ample resources and tutorials at your fingertips, making it easy to navigate through any topic you want to learn about.
This website has over 1 million users worldwide who come here every month because they want an easy way to learn how to code in JavaScript without spending hours on YouTube or Udemy courses.
Conclusion
There are plenty of free resources to learn JavaScript online. We've compiled our top five picks here, but there are many more than just these. If you have any recommendations for a great resource for learning JavaScript, let us know in the comments below!
Thank you for reading this article, click here to start learning Python in 2022.
---
Also Read: