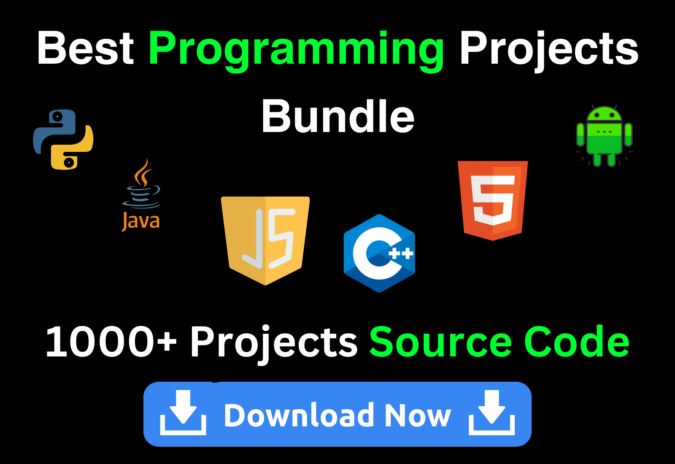 Introduction
Hello friends and welcome again today, I will give you something that will help you throughout your programming journey, no matter whether you are starting our or an experienced guy who is looking to increase his salary. Today, I am going to share with you a programming bundle under which you will find these things:
1000+ Programming projects
B.Tech CSE All Semester Notes
Programming Notes
Interview Questions
Interview & Job Placement Guide
Basic Cybersecurity Guide
Sample Resumes
Roadmaps to learn different technologies
Soft Skill Development Guide
Important Tools and Software Guide
Version Control System Guide
Useful Online resources
and more
1000+ Programming Projects
When I was in college, I searched Google for many online resources and one of the most searched terms of my searches was similar to "best programming projects with source code". Even today I search all these related terms and my friends did this too because we all want project source code so that we can directly run and understand how programming projects are created and how they work.
Now, I have collected enough programming projects since I started learning so I am thinking of helping everyone by sharing my 1000+ programming projects in the bundle. These projects are not only from one programming language, these are from most of the important programming languages as I have collected these projects from my friends too. If you get these projects then I don't think you will need anything else or need to search online.
Internship & Job Placement Guide
Not just projects, I have also given you with internship and job placement guide. As I was preparing to get internships and jobs during my placement I collected so many materials. Now, I have summarized all that collected material for you so that it becomes easy for you to prepare for internships and jobs. If you are preparing for an internship or a job or want to switch your job then my guide will actually help you if you give your 100% to it.
Join Us On WhatsApp
B.Tech All Semester notes
While studying in your college classes, the teacher teaches you on a blackboard and it's not possible to write everything most of the time we do not match the speed of the teacher and we are left behind and not just this, while we try to match our writing speed with the teacher we are unable to understand what teacher actually teaching. That's why, in this programming bundle I have included All my notes from all semester so that you do not need to worry about collecting notes from your friends or roaming over the internet.
Summary
There are many reasons that you should have my programming bundle and I have explained to you some benefits of my programming bundle. Not only this, but my programming bundle includes much more but everything can not be explained here so I suggest you go to this link and check all the benefits of my programming bundle. I hope you will benefit from my programming bundle and that your programming journey will become easy.
---
Thanks for reading my article. If you have any questions, reach me at admin@copyassingment.com.