Today, we will create an ATM in JavaScript. ATM is a machine used to withdraw money from your account, did you ever think of how an ATM Works, through this article we will get to know how. ATM Simulator is a Simulator machine app that shows you your balance and lets you withdraw money and deposit money.
We used Notepad++ as our code editor, and HTML, CSS, and JS have been used to frame it. This ATM Simulator in JavaScript has options with buttons included, like withdraw, deposit, and details viewer, and it has a simulated camera, which is not a real one but is coded fun with JS.
It provides an inbuilt password and username, or account number as above, which you can edit in the code, but above is an alert provided by the page.
Folder structure for ATM in JavaScript:
We will be using HTML, CSS, and JavaScript for developing an ATM simulator in JavaScript. Check out this image for the folder structure of our project.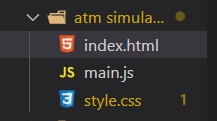 index.html contains our Html code.
style.css contains styling for our web page.
main.js contains all the logic.
Coding ATM in JavaScript:
Please read the comments to understand the flow of the code.
HTML Code:
<!DOCTYPE HTML>
    <head>
      <script src="https://code.jquery.com/jquery-3.3.1.js"></script>
      <link rel='stylesheet' type='text/css' ' media="screen" href="style.css"/>
      <link href='https://fonts.googleapis.com/css?family=Montserrat' rel='stylesheet' type='text/css'>
      <link href="https://fonts.googleapis.com/css?family=Montserrat" rel="stylesheet">
    </head>
    <body>
      <div id="atmmac">
      <center>
      <div id="outer">
      <div id="camera"><div id="lens"></div>
          <div id="light"></div>
      </div>
      <div id="com">
      
          <button id="b1" ></button>
          <button id="b2"></button>
          <button id="b3"></button>
          <button id="b4"></button>
          <button id="b5"></button>
          <button id="b6"></button>
          
      <p id="com1"><b> ATM</b></p></div>
          <div class="screen">
          
          <div id="loading">
          
          <p id="inf" >Please wait 5 seconds</p>
      <div id="round1"></div>
      <div id="round2"></div>
      <div id="round3"></div>
      <div id="round4"></div>
      <p id="l4" style="color:white;font-weight:bold">Card processing</p>
          </div>
              
          <div id="begin">
                
                <p class="well1"> Welcome to Our ATM </p>
                <p class="well2">Enter demo acc no.</p>
                  <input type="text" class="pass2" maxlength="8">
                  <button id="btne2" >Submit</button>
            </div>
            <div id="all">
            
            <div class="welcome">
            <p class="well8">Welcome UserName !!</p>
                <p class="well2">Please enter your password</p>
                  <input type="password" class="pass" maxlength="4" >
                  <button id="btne1" >Submit</button>
                  
            </div>
            
            
            
            <div id="beginwrg">
                <p id="pinwrg6">!! Invalid Account number !!</p>
                <p id="pinwrg2">!! Please try again !!</p>
                <center> <button id="bac4">Back</button></center>
            </div>
            <div id="pinwrg">
                <p id="pinwrg1">!! Invalid pin !!</p>
                <p id="pinwrg2">!! Please try again !!</p>
                <center> <button id="bac3">Back</button></center>
            </div>
              <div id="pincrt">
              <div id="success"> 
              <button id="wdr">WITHDRAW</button>
              <button id="dep">DEPOSIT</button>
              <button id="mst">BAL ENQUIRY</button>
              <button id="cpin">CHANGE PIN</button>
              <button id="det">DETAILS</button>
              <button id="otr">OTHERS</button>
              <center> <button id="backs">Cancel</button></center>
              
          </div>
          
          <div id="deti">
              <table id="de">
                  <tr>
                      <td>Account Name:</td>
                      <td>UserName </td>
                  </tr>
                  <tr>
                      <td style="text-align:right">Account No:</td>
                      <td>12345678</td>
                  </tr>
                  <tr>
                      <td style="text-align:right">Total Amount:</td>
                      <td>50,000</td>
                  </tr>
                  <tr>
                      <td style="text-align:right">Account type:</td>
                      <td>Savings</td>
                  </tr>
              </table>
            <center> <button id="back">Back</button></center>
        
          
          </div>
          <div id="error">
              <p id="err1">ERROR-404<br></p><p id="erp2">This feature under construction and it will be available soon..</p>
              <center> <button id="back2">Back</button></center>
          </div>
          
          <div id="chgpin">
              <p id="err8">Permission required!!</p><p id="err4">Sorry Permission denied,<br> visit nearest branch</p>
              <center> <button id="back3">Back</button></center>
          </div>
          <div id="balen">
              <p id="err5">Total balance:50,000<br>Last withdarw:20,000
              <br>credit interest:400</p>
              <center> <button id="back4">Back</button></center>
          </div>
          
          <div id="witdrw">
            <b> Enter the amount: </b><input type="number" id="witdrwno">
            <button id="btns2">Submit</button>
            <button id="back5">Back</button>
            </div>
            
            
            <div id="bill">
            <p id="succ">!!SUCCESS!!</p>
              <p id="succ2">Please collect your cash within 5 seconds<br>take your card back</p>  
                
                
            </div>
            
            
            
            <div id="result">
            <p id="wdt6">Total amount:</p>
            <p id="wdt7"></p>
            <p id="wdt2">widthdrawl amount:</p>
            <p id="wdt3"></p>
            <p id="wdt4">Remaining balance:</p>
            <p id="wdt5"></p>
            
            <center> <button id="back6">Back</button></center>
            </div>
            <div id="wrong">
            <p id="err5">Error:Your account contains low balance than you entered</p><br><p id="err6">**Please Enter the valid amount** </p>
            <center> <button id="back7">Back</button></center>
            </div>
            <div id="depst">
            <b> Enter the amount: </b><input type="number" id="depstno">
            <input type="button" id="bt3" value="Submit">
            <button id="back8">Back</button>
          </div>
          
          <div id="result2">
              
              <p id="dep8">Total amount:</p>
            <p id="dep9"></p>
            <p id="dep10">Deposited amount:</p>
            <p id="dep11"></p>
            <p id="dep12">previous balance:</p>
            <p id="dep13"></p>
            <center> <button id="back9">Back</button></center>
          </div>
          <div id="final">
              <p id="final1">Thank you</p>.   <p id="final3">For visiting ATM</p>
              <p id="final2">Have a nice day</p>
          </div>
          </div>
          </div>
          
          
          
      </div>     
          </div>
          <div id="card">
          <div id="indictr">
        
              <div id="card2">
                  
                  </div>
                  
                  
              </div>
          </div>
          <div id="botto">
          
            <div id="indicator2"> </div> <div id="cash"><div id="cash1"></div></div>
            
              <button id="help1" onclick="arr();">!</button>       
            
          </div>
    </center>
        </div>
    </body>
    <script src="main.js"></script>
</html>
JavaScript Code:
alert("Account number:12345678 and password:9876 and click this icon for help(!)");
function showe() {
    $("#begin").show();
    $("#indicator2").hide();
    $("#loading").hide();
    $("#cash1").hide();
    clearInterval(ani);
}
function showes() {
    $("#result").show();

    $("#bill").hide();
    $("#cash1").hide();
    $("#indicator2").hide();

    clearInterval(mani);
}

$(document).ready(function () {


    ani = setInterval("showe()", 9000);
    $("#loading").show();


    $("#begin").hide();

    $(".welcome").hide();
    $("#success").hide();
    $("#deti").hide();
    $("#error").hide();
    $("#chgpin").hide();
    $("#balen").hide();
    $("#witdrw").hide();
    $("#result").hide();
    $("#wrong").hide();
    $("#depst").hide();
    $("#result2").hide();
    $("#final").hide();
    $("#pinwrg").hide();
    $("#beginwrg").hide();
    $("#bill").hide();
    $("#cash1").hide();
    $("#indicator2").hide();

    $("#btne2").click(function () {


        var accno = 12345678;
        var accs = $(".pass2").val();
        if (accno == accs) {
            $(".welcome").show("fast");
            $("#begin").hide("fast");
            $("#cash1").hide();
            $("#indicator2").hide();
            navigator.vibrate(100);
        }
        else {
            $("#beginwrg").show("fast");
            $("#begin").hide("fast");
            $("#cash1").hide();
            $("#indicator2").hide();
            navigator.vibrate(100);
        }
    });
    $("#bac4").click(function () {
        $("#begin ").show();
        $("#indicator2").hide();
        $("#beginwrg").hide();
        $("#cash1").hide();

        navigator.vibrate(100);
    });
    $("#btne1").click(function () {
        var pin = 9876;

        var pins = $(".pass").val();
        if (pins == pin) {
            $("#success").show();
            $(".welcome").hide("fast");
            $("#cash1").hide();
            $("#indicator2").hide();
            navigator.vibrate(100);
        }


        else {
            $("#pinwrg").show();
            $(".welcome").hide("fast");
            $("#cash1").hide();
            $("#indicator2").hide();
            navigator.vibrate(100);
        }
    });

    $("#bac3").click(function () {
        $(".welcome ").show();

        $("#pinwrg").hide();
        $("#cash1").hide();
        $("#indicator2").hide();
        navigator.vibrate(100);
    });


    $("#backs").click(function () {
        $(".welcome").hide();
        $("#success").hide();
        $("#deti").hide();
        $("#error").hide();
        $("#balen").hide();
        $("#chgpin").hide();
        $("#witdrw").hide();
        $("#result").hide();
        $("#wrong").hide("fast");
        $("#result2").hide("fast");
        $("#depst").hide("fast");
        $("#final").show();
        $("#cash1").hide();
        $("#indicator2").hide();
        navigator.vibrate(100);
    });






    $("#det").click(function () {

        $(".welcome").hide();
        $("#success").hide();
        $("#deti").show();
        $("#error").hide();
        $("#result").hide();
        $("#chgpin").hide();
        $("#balen").hide();
        $("#witdrw").hide();
        $("#wrong").hide("fast");
        $("#depst").hide("fast");
        $("#result2").hide("fast");
        $("#final").hide();
        $("#cash1").hide();
        $("#indicator2").hide();

        navigator.vibrate(100);
        $("#back").click(function () {
            $(".welcome").hide();
            $("#success").show();
            $("#deti").hide();
            $("#error").hide();
            $("#chgpin").hide();
            $("#balen").hide();
            $("#witdrw").hide();
            $("#wrong").hide("fast");
            $("#depst").hide("fast");
            $("#result2").hide("fast");
            $("#final").hide();
            $("#cash1").hide();
            $("#result").hide();
            $("#indicator2").hide();
            navigator.vibrate(100);
        });

    });
    $("#otr").click(function () {
        $(".welcome").hide();
        $("#success").hide();
        $("#deti").hide();
        $("#error").show();
        $("#chgpin").hide();
        $("#balen").hide();
        $("#result").hide();
        $("#wrong").hide("fast");
        $("#depst").hide("fast");
        $("#result2").hide("fast");
        $("#final").hide();
        $("#cash1").hide();
        $("#witdrw").hide();
        $("#indicator2").hide();
        navigator.vibrate(100);
        $("#back2").click(function () {
            $(".welcome").hide();
            $("#success").show();
            $("#deti").hide();
            $("#error").hide();
            $("#chgpin").hide();
            $("#balen").hide();
            $("#witdrw").hide();
            $("#result").hide();
            $("#wrong").hide("fast");
            $("#depst").hide("fast");
            $("#result2").hide("fast");
            $("#final").hide();
            $("#indicator2").hide();
            $("#cash1").hide();
            navigator.vibrate(100);
        });

    });
    $("#cpin").click(function () {
        $(".welcome").hide();
        $("#success").hide();
        $("#deti").hide();
        $("#error").hide();
        $("#chgpin").show();
        $("#balen").hide();
        $("#witdrw").hide();
        $("#result").hide();
        $("#wrong").hide("fast");
        $("#depst").hide("fast");
        $("#result2").hide("fast");
        $("#final").hide();
        $("#indicator2").hide();
        $("#cash1").hide();
        navigator.vibrate(100);
        $("#back3").click(function () {
            $(".welcome").hide();
            $("#success").show();
            $("#deti").hide();
            $("#error").hide();
            $("#balen").hide();
            $("#chgpin").hide();
            $("#result").hide();
            $("#wrong").hide("fast");
            $("#depst").hide("fast");
            $("#result2").hide("fast");
            $("#final").hide();
            $("#cash1").hide();
            $("#witdrw").hide();
            $("#indicator2").hide();
            navigator.vibrate(100);
        });

    });
    $("#mst").click(function () {
        $(".welcome").hide();
        $("#success").hide();
        $("#deti").hide();
        $("#error").hide();
        $("#chgpin").hide();
        $("#balen").show();
        $("#result").hide();
        $("#wrong").hide("fast");
        $("#depst").hide("fast");
        $("#result2").hide("fast");
        $("#final").hide();
        $("#cash1").hide();

        $("#indicator2").hide();
        $("#witdrw").hide();
        navigator.vibrate(100);
        $("#back4").click(function () {
            $(".welcome").hide();
            $("#success").show();
            $("#deti").hide();
            $("#error").hide();
            $("#balen").hide();
            $("#chgpin").hide();
            $("#witdrw").hide();
            $("#result").hide();
            $("#wrong").hide("fast");
            $("#depst").hide("fast");
            $("#result2").hide("fast");
            $("#final").hide();
            $("#cash1").hide();
            $("#indicator2").hide();

            navigator.vibrate(100);
        });

    });

    $("#wdr").click(function () {
        $(".welcome").hide();
        $("#success").hide();
        $("#deti").hide();
        $("#error").hide();
        $("#chgpin").hide();
        $("#balen").hide();
        $("#witdrw").show();
        $("#result").hide();
        $("#wrong").hide("fast");
        $("#depst").hide("fast");
        $("#result2").hide("fast");
        $("#final").hide();
        $("#cash1").hide();

        $("#indicator2").hide();
        navigator.vibrate(100);
        $("#back5").click(function () {
            $(".welcome").hide();
            $("#success").show();
            $("#deti").hide();
            $("#error").hide();
            $("#balen").hide();
            $("#chgpin").hide();
            $("#witdrw").hide();
            $("#result").hide();
            $("#wrong").hide("fast");
            $("#depst").hide("fast");
            $("#result2").hide("fast");
            $("#final").hide();
            $("#indicator2").hide();

            $("#cash1").hide();
            navigator.vibrate(100);
        });
    });
    $("#btns2").click(function () {

        $("#wdt3").empty();
        $("#wdt5").empty();
        $("#wdt7").empty();
        var bal = 50000;
        var str = $("#witdrwno").val();
        if (bal >= str) {
            var sub = bal - str;
            if (str == "") {
                str = 0;
            }
            mani = setInterval("showes()", 7000);
            $("#bill").show();
            $("#cash1").show();
            $("#indicator2").show();
            $("#wdt3").append(str);
            $("#wdt5").append(sub);
            $("#wdt7").append(bal);
            $(".welcome").hide();
            $("#success").hide();
            $("#deti").hide();
            $("#error").hide();
            $("#chgpin").hide();
            $("#balen").hide();
            $("#witdrw").hide();
            $("#result").hide();
            $("#wrong").hide("fast");
            $("#depst").hide("fast");
            $("#result2").hide("fast");
            $("#final").hide();
            navigator.vibrate(100);

            $("#back6").click(function () {
                $(".welcome").hide();
                $("#success").hide();
                $("#deti").hide();
                $("#error").hide();
                $("#balen").hide();
                $("#chgpin").hide();
                $("#witdrw").hide();
                $("#result").hide();
                $("#wrong").hide("fast");
                $("#depst").hide("fast");
                $("#result2").hide("fast");
                $("#final").show();
                $("#cash1").hide();
                $("#indicator2").hide();
                navigator.vibrate(100);
            });
        }
        else {
            $(".welcome").hide();
            $("#success").hide();
            $("#deti").hide();
            $("#error").hide();
            $("#chgpin").hide();
            $("#balen").hide();
            $("#witdrw").hide();
            $("#wrong").show();
            $("#result").hide("fast");
            $("#final").hide();
            $("#cash1").hide();
            $("#depst").hide("fast");
            $("#result2").hide("fast");
            $("#indicator2").hide();

            navigator.vibrate(100);

            $("#back7").click(function () {
                $(".welcome").hide();
                $("#success").hide();
                $("#deti").hide();
                $("#error").hide();
                $("#balen").hide();
                $("#chgpin").hide();
                $("#witdrw").show();
                $("#result").hide();
                $("#wrong").hide("fast");
                $("#depst").hide("fast");
                $("#result2").hide("fast");
                $("#final").hide();
                $("#indicator2").hide();


                $("#cash1").hide();
                navigator.vibrate(100);

            });
        }

    });
    $("#dep").click(function () {
        $(".welcome").hide();
        $("#success").hide();
        $("#deti").hide();
        $("#error").hide();
        $("#chgpin").hide();
        $("#balen").hide();
        $("#witdrw").hide();
        $("#result").hide();
        $("#wrong").hide("fast");
        $("#depst").show("fast");
        $("#result2").hide("fast");
        $("#final").hide();
        $("#cash1").hide();
        $("#indicator2").hide();

        navigator.vibrate(100);

        $("#back8").click(function () {
            $(".welcome").hide();
            $("#success").show();
            $("#deti").hide();
            $("#error").hide();
            $("#balen").hide();
            $("#chgpin").hide();
            $("#witdrw").hide();
            $("#result").hide();
            $("#wrong").hide("fast");
            $("#depst").hide("fast");
            $("#result2").hide("fast");
            $("#final").hide();
            $("#cash1").hide();

            $("#indicator2").hide();
            navigator.vibrate(100);
        });
    });
    $("#bt3").click(function () {
        $("#dep11").empty();
        $("#dep9").empty();
        $("#dep13").empty();
        $("#cash1").hide();
        $("#indicator2").hide();
        var bal1 = 50000;
        var str1 = $("#depstno").val();

        var sub1 = parseInt(bal1) + parseInt(str1);
        if (str1 == "") {
            str1 = 0;
        }
        $("#dep11").append(str1);
        $("#dep9").append(sub1);
        $("#dep13").append(bal1);
        $(".welcome").hide();
        $("#success").hide();
        $("#deti").hide();
        $("#error").hide();
        $("#chgpin").hide();
        $("#balen").hide();
        $("#witdrw").hide();
        $("#result").hide();
        $("#wrong").hide("fast");
        $("#result2").show("fast");
        $("#depst").hide("fast");
        $("#final").hide();
        $("#cash1").hide();
        $("#indicator2").hide();
        navigator.vibrate(100);

        $("#back9").click(function () {
            $(".welcome").hide();
            $("#success").hide();
            $("#deti").hide();
            $("#error").hide();
            $("#balen").hide();
            $("#chgpin").hide();
            $("#witdrw").hide();
            $("#result").hide();
            $("#wrong").hide("fast");
            $("#result2").hide("fast");
            $("#depst").hide("fast");
            $("#final").show();
            $("#cash1").hide();
            $("#indicator2").hide();
            navigator.vibrate(100);
        });


    });

});
CSS Code:
body {
  background: linear-gradient(135deg, #fff333, #ff3377);
}
#outer {
  position: absolute;
  width: 340px;
  height: 240px;
  background-color: silver;
  top: 110px;
  left: 7px;
  border-style: double;
  border-top-left-radius: 10px;

  border-top-right-radius: 10px;
  align-content: center;
  border-color: black;
  border-width: 5px;
  border-style: outset;
  text-shadow: 0.5px 0.5px black;
}

#acname {
  text-transform: uppercase;
  font-weight: bold;
  color: black;
  position: absolute;

  align-content: center;
  top: 40px;
  left: 146px;
  font-size: 12.5px;
  text-shadow: 1px -1px 1px black;
}

#de {
  position: absolute;
  font-weight: bold;
  text-transform: uppercase;
  font-size: 15px;
  top: 30px;
  left: 5px;
  border-color: white;
  border-radius: 3px;
  text-shadow: 0.5px 0.5px black;
  align-content: center;
}

#b1 {
  height: 14px;
  position: absolute;
  width: 4.5px;
  background-color: white;
  border-color: black;
  border-width: 2px;
  top: 60px;
  left: 5px;
  align-content: center;
  border-style: solid;
}
#b2 {
  height: 14px;
  position: absolute;
  width: 4.5px;
  background-color: white;
  border-color: black;
  border-width: 2px;
  top: 120px;
  left: 5px;
  border-style: solid;
  align-content: center;
}
#b3 {
  height: 14px;
  position: absolute;
  width: 4.5px;
  background-color: white;
  border-color: black;
  border-width: 2px;
  top: 180px;
  left: 5px;
  border-style: solid;
  align-content: center;
}
#user23 {
  font-weight: bold;
  color: white;
  position: absolute;
  left: 78px;
  top: 50px;
  font-size: 13px;
  text-shadow: 0.5px -1px 1px black;
  text-shadow: 0.5px 0.5px black;
  align-content: center;
}
#b4 {
  height: 14px;
  position: absolute;
  width: 4.5px;
  background-color: white;
  border-color: black;
  border-width: 2px;
  top: 180px;
  right: 5px;
  border-style: solid;
  align-content: center;
}
#b5 {
  height: 14px;
  position: absolute;
  width: 4.5px;
  background-color: white;
  border-color: black;
  border-width: 2px;
  top: 120px;
  right: 5px;
  border-style: solid;
  align-content: center;
}
#b6 {
  height: 14px;
  position: absolute;
  width: 4.5px;
  background-color: white;
  border-color: black;
  border-width: 2px;
  top: 60px;
  right: 5px;
  border-style: solid;
  align-content: center;
}
#camera {
  width: 15px;
  position: absolute;
  height: 15px;
  background-color: lightgrey;
  border-radius: 50%;
  left: 150px;
  top: 8px;
  border-style: double;
  align-content: center;
}

.screen {
  width: 260px;
  height: 160px;
  position: absolute;
  background-color: lightblue;
  left: 25px;
  top: 30px;
  bottom: 30px;
  right: 30px;
  border-width: 15px;
  border-top-style: inset;
  border-top-color: black;
  border-bottom-style: outset;
  border-bottom-color: black;
  border-left-style: inset;
  border-left-color: black;
  border-right-style: outset;
  border-right-color: black;
  align-content: center;
}
.well1 {
  font-weight: bold;
  color: Black;
  position: absolute;
  font-family: "Montserrat", serif;
  left: 15px;
  text-transform: uppercase;
  top: 8px;
  text-shadow: 0.5px -1px 1px black;
  align-content: center;
}

.well2 {
  font-weight: bold;
  color: white;
  position: absolute;
  font-family: "Montserrat", serif;
  left: 29px;
  top: 30px;
  align-content: center;
  text-shadow: 0.5px 0.5px white;
}
.pass,
.pass2 {
  height: 10px;
  position: absolute;
  align-content: center;
  width: 80px;
  top: 80px;
  left: 80px;
  border-radius: 5px;
  text-shadow: 0.5px 0.5px black;
  border-style: solid;
  border-color: black;
}
#btne1,
#btne2 {
  height: 20px;
  position: absolute;
  width: 40px;
  top: 110px;
  left: 100px;
  font-size: 8px;
  text-align: center;
  font-weight: bold;
  text-shadow: 0.5px 0.5px black;
  maxlength: 8;
  align-content: center;
}
#com1 {
  text-transform: uppercase;
  font-weight: bold;
  color: black;
  position: absolute;

  top: 216px;
  left: 149px;
  font-size: 10px;
  text-shadow: 1px -1px 1px black;
  align-content: center;
}
#botto {
  position: absolute;
  width: 340px;
  left: 7px;
  background-color: darkgrey;
  height: 170px;
  top: 410px;
  border-style: inset;
  border-width: 5px;

  align-content: center;
  border-color: black;
}
#cash {
  position: absolute;
  width: 130px;
  height: 15px;
  background-color: grey;
  top: 25px;
  left: 101px;
  border-color: black;
  border-width: 5px;
  border-style: outset;
  align-content: center;
}
#wdr {
  position: absolute;
  width: 60px;
  height: 17px;
  background-color: lightgrey;
  font-weight: bold;
  font-size: 8px;
  left: 10px;
  top: 15px;
  text-shadow: 0.5px 0.5px black;
  align-content: center;
}
#dep {
  position: absolute;
  width: 60px;
  height: 17px;
  background-color: lightgrey;
  font-weight: bold;
  font-size: 8px;
  left: 10px;
  top: 75px;
  text-shadow: 0.5px 0.5px black;
  align-content: center;
}
#mst {
  position: absolute;
  width: 60px;
  height: 24px;
  background-color: lightgrey;
  font-weight: bold;
  font-size: 8px;
  left: 10px;
  top: 130px;
  align-content: center;
  text-shadow: 0.5px 0.5px black;
}
#det {
  position: absolute;
  width: 60px;
  height: 17px;
  background-color: lightgrey;
  font-weight: bold;
  font-size: 8px;
  right: 10px;
  top: 15px;
  text-shadow: 0.5px 0.5px black;
  align-content: center;
}
#otr {
  position: absolute;
  width: 60px;
  height: 17px;
  background-color: lightgrey;
  font-weight: bold;
  font-size: 8px;
  right: 10px;
  top: 75px;
  text-shadow: 0.5px 0.5px black;
  align-content: center;
}
#cpin {
  position: absolute;
  width: 60px;
  height: 24px;
  background-color: lightgrey;
  font-weight: bold;
  font-size: 8px;
  right: 10px;
  top: 130px;
  text-shadow: 0.5px 0.5px black;
  align-content: center;
}
#back,
#back2,
#back3 {
  bottom: 5px;
  position: absolute;
  left: 100px;
  height: 20px;
  width: 40px;
  text-align: center;
  background-color: lightgrey;
  font-weight: bold;
  font-size: 8px;
  text-shadow: 0.5px 0.5px black;
  align-content: center;
}
#back4,
#back9 {
  bottom: 5px;
  position: absolute;
  left: 100px;
  height: 20px;
  width: 40px;
  text-align: center;
  background-color: lightgrey;
  font-weight: bold;
  font-size: 8px;
  text-shadow: 0.5px 0.5px black;
  align-content: center;
}
#back6,
#back7,
#back5 {
  bottom: 5px;
  position: absolute;
  left: 100px;
  height: 20px;
  width: 40px;
  text-align: center;
  background-color: lightgrey;
  font-weight: bold;
  font-size: 8px;
  text-shadow: 0.5px 0.5px black;
  align-content: center;
}

#witdrw,
#depst {
  position: absolute;
  top: 42px;
  font-size: 14px;
  left: 30px;
  text-shadow: 0.5px 0.5px black;
  align-content: center;
}
#witdrwno,
#depstno {
  position: absolute;
  top: 3px;
  width: 65px;
  height: 8px;
  left: 119px;
  align-content: center;
  text-shadow: 0.5px 0.5px black;
}
#dep10 {
  position: absolute;
  top: 40px;
  font-weight: bold;
  font-size: 15px;
  text-shadow: 0.5px 0.5px black;
  left: 5px;
  align-content: center;
}

#wdt7 {
  position: absolute;
  top: 10px;
  font-weight: bold;
  font-size: 15px;
  left: 150px;
  text-shadow: 0.5px 0.5px black;
  align-content: center;
}
#wdt5 {
  position: absolute;
  top: 70px;
  font-weight: bold;
  font-size: 15px;
  left: 150px;
  text-shadow: 0.5px 0.5px black;
  align-content: center;
}
#wdt3 {
  position: absolute;
  top: 40px;
  font-weight: bold;
  font-size: 15px;
  left: 150px;
  text-shadow: 0.5px 0.5px black;
  align-content: center;
}
#wdt4,
#dep12 {
  align-content: center;
  position: absolute;
  top: 70px;
  font-weight: bold;
  font-size: 15px;
  text-shadow: 0.5px 0.5px black;
  left: 13px;
}

#dep8 {
  position: absolute;
  top: 10px;
  font-weight: bold;
  font-size: 15px;
  text-shadow: 0.5px 0.5px black;
  left: 42px;
  align-content: center;
}

#btns2,
#bt3 {
  position: absolute;
  top: 30px;
  width: 50px;
  height: 22px;
  font-size: 10px;
  text-align: center;
  font-weight: bold;
  background-color: lightgrey;
  left: 65px;
  text-shadow: 0.5px 0.5px black;
  align-content: center;
}
#back5,
#back8 {
  align-content: center;
  position: absolute;
  left: 70px;
  height: 20px;
  width: 40px;
  top: 85px;
  text-align: center;
  background-color: lightgrey;
  font-weight: bold;
  font-size: 8px;
  text-shadow: 0.5px 0.5px black;
}

#backs {
  align-content: center;
  bottom: 40px;
  position: absolute;
  left: 105px;
  height: 20px;
  width: 40px;
  text-align: center;
  background-color: lightgrey;
  font-weight: bold;
  font-size: 8px;
  text-shadow: 0.5px 0.5px black;
}
#pinwrg1 {
  position: absolute;
  font-weight: bold;
  left: 80px;
  text-shadow: 0.5px 0.5px black;
  align-content: center;
}
#pinwrg6 {
  position: absolute;
  font-weight: bold;
  left: 40px;
  text-shadow: 0.5px 0.5px black;
  align-content: center;
}
#pinwrg2 {
  position: absolute;
  font-weight: bold;
  left: 65px;
  top: 30px;
  text-shadow: 0.5px 0.5px black;
  align-content: center;
}
#bac3,
#bac4 {
  align-content: center;
  bottom: 5px;
  position: absolute;
  left: 100px;
  height: 20px;
  width: 40px;
  text-align: center;
  background-color: lightgrey;
  font-weight: bold;
  font-size: 8px;
  text-shadow: 0.5px 0.5px black;
}

#card {
  align-content: center;
  position: absolute;
  width: 340px;
  height: 40px;
  background-color: darkgrey;
  top: 360px;
  left: 7px;
  border-color: black;
  border-width: 5px;
  border-style: outset;
}
#card2 {
  align-content: center;
  position: absolute;
  width: 70px;
  height: 7px;
  background-color: grey;
  top: 4px;
  left: 5px;
  border-color: black;
  border-width: 5px;
  border-style: outset;
  overflow: hidden;
}

.one {
  align-content: center;
  height: 10px;
  position: absolute;
  width: 280px;
  background-color: white;
  top: 78px;
  left: 6px;
  border-bottom-left-radius: 10px;
  border-bottom-right-radius: 10px;
  border-style: solid;
  border-bottom-color: black;
  border-bottom-width: 3px;
}

.one {
  align-content: center;
  transform: rotateX(40deg);
  animation: one 2s infinite;
  animation-direction: alternate;
}
@keyframes one {
  0% {
    transform: rotateX(30deg);
  }
  50% {
    transform: rotateX(50deg);
  }

  100% {
    transform: rotateX(70deg);
  }
}

#lens {
  width: 8px;
  position: absolute;
  height: 8px;
  background-color: black;
  border-radius: 50%;
  left: 3.5px;
  top: 3.5px;
  animation: two 6s infinite;
  transform: rotateY (40deg);
  align-content: center;
  animation-direction: alternate;
}
@keyframes two {
  0% {
    transform: rotateY (30deg);
  }
  20% {
    transform: rotateX(30deg);
  }

  40% {
    transform: rotateY(50deg);
  }
  50% {
    transform: rotateX(50deg);
  }

  75% {
    transform: rotateX(70deg);
  }
  100% {
    transform: rotateY (30deg);
  }
}

#indictr {
  height: 25px;
  width: 90px;
  background-color: green;
  left: 120px;
  position: absolute;
  top: 6px;
  border-style: solid;
  border-width: 2.5px;
  animation: clr 0.5s infinite;
  align-content: center;
}
@keyframes clr {
  0% {
    background-color: #7cfc00;
  }

  100% {
    background-color: grey;
  }
}

#inf {
  position: absolute;
  left: 49px;
  text-shadow: 0.5px 0.5px black;
  font-weight: bold;
  color: white;
  align-content: center;
}
#l4 {
  position: absolute;
  left: 70px;
  bottom: 9px;
  text-shadow: 0.5px 0.5px black;
  font-weight: bold;
  color: white;
  align-content: center;
}

#round1 {
  width: 10px;
  height: 10px;
  border-radius: 50%;
  background: blue;
  animation: ball 0.7s infinite;

  position: absolute;

  left: 3.1cm;
  margin-top: 75px;
  align-content: center;
}
#round3 {
  width: 10px;
  height: 10px;
  border-radius: 50%;
  background: red;
  animation: ball 0.6s infinite;

  position: absolute;

  left: 2.7cm;
  margin-top: 75px;
  align-content: center;
}

#round2 {
  width: 10px;
  height: 10px;
  border-radius: 50%;
  background: green;
  animation: ball 0.9s infinite;

  position: absolute;

  left: 3.9cm;
  margin-top: 75px;
  align-content: center;
}
#round4 {
  width: 10px;
  height: 10px;
  border-radius: 50%;
  background: yellow;
  animation: ball 0.8s infinite;

  position: absolute;

  left: 3.5cm;
  margin-top: 75px;
  align-content: center;
}
@keyframes ball {
  0% {
    top: 0;
  }
  10% {
    top: 0.1cm;
  }
  20% {
    top: 0.16cm;
  }
  30% {
    top: 0.22cm;
  }
  40% {
    top: 0.28cm;
  }
  50% {
    top: 0.34cm;
  }
  60% {
    top: 0.28cm;
  }
  70% {
    top: 0.22cm;
  }
  80% {
    top: 0.16cm;
  }
  90% {
    top: 0.1cm;
  }
  100% {
    top: 0;
  }
}
#loading {
  width: 260px;
  height: 160px;
  position: absolute;
  background-color: black;
  left: 0.01px;
  top: 0.01px;
  bottom: 0.01px;
  right: 0.01px;
  overflow: hidden;
  align-content: center;
}
#help1 {
  top: 60px;
  position: absolute;
  left: 159px;
  border-radius: 50%;
  font-size: 8px;
  font-weight: bold;
  background-color: grey;
  text-shadow: 0.5px 0.5px black;
  border-style: solid;
  border-width: 3px;
  border-color: black;
  align-content: center;
}

#err1 {
  position: absolute;
  font-weight: bold;
  font-size: 15px;
  top: 20px;
  left: 79px;
  border-color: white;
  border-radius: 3px;
  text-shadow: 0.5px 0.5px black;
  overflow: hidden;
  align-content: center;
}
#erp2,
#err4 {
  position: absolute;
  font-weight: bold;
  font-size: 15px;
  top: 50px;
  left: 5px;
  border-color: white;
  border-radius: 3px;
  text-shadow: 0.5px 0.5px black;
  overflow: hidden;
  align-content: center;
}
#err5 {
  position: absolute;
  font-weight: bold;
  font-size: 15px;
  top: 20px;
  left: 20px;
  border-color: white;
  border-radius: 3px;
  text-shadow: 0.5px 0.5px black;
  overflow: hidden;
  align-content: center;
}
#err6 {
  position: absolute;
  font-weight: bold;
  font-size: 15px;
  top: 70px;
  left: 20px;
  border-color: white;
  border-radius: 3px;
  text-shadow: 0.5px 0.5px black;
  overflow: hidden;
  align-content: center;
}
#final1 {
  font-family: "Montserrat";
  position: absolute;
  text-transform: uppercase;
  font-weight: bold;
  font-size: 25px;
  top: 5px;
  left: 60px;
  text-shadow: 1px -1px 1px black;
  color: gold;
  align-content: center;
}
#final3 {
  font-family: "Montserrat";
  position: absolute;
  font-weight: bold;
  font-size: 25px;
  top: 45px;
  left: 20px;
  color: gold;
  align-content: center;
}
#final2 {
  position: absolute;
  font-weight: bold;
  font-size: 25px;
  font-family: "Montserrat", serif;
  top: 80px;
  left: 60px;
  text-shadow: 0.5px 0.5px black;
  color: pink;
  align-content: center;
}
#final {
  width: 260px;
  height: 160px;
  position: absolute;
  background-color: black;
  left: 0.01px;
  top: 0.01px;
  bottom: 0.01px;
  right: 0.01px;
  overflow: hidden;
  align-content: center;
}

#wdt6 {
  position: absolute;
  top: 10px;
  font-weight: bold;
  font-size: 15px;
  text-shadow: 0.5px 0.5px black;
  left: 53px;
  align-content: center;
}
#wdt2 {
  position: absolute;
  top: 40px;
  font-weight: bold;
  font-size: 15px;
  text-shadow: 0.5px 0.5px black;
  left: 12px;
  align-content: center;
}
#dep9 {
  position: absolute;
  top: 10px;
  font-weight: bold;
  font-size: 15px;
  left: 135px;
  text-shadow: 0.5px 0.5px black;
  align-content: center;
}
#dep13 {
  align-content: center;
  position: absolute;
  top: 70px;
  font-weight: bold;
  font-size: 15px;
  left: 135px;
  text-shadow: 0.5px 0.5px black;
}
#dep11 {
  align-content: center;
  position: absolute;
  top: 40px;
  font-weight: bold;
  font-size: 15px;
  left: 135px;
  text-shadow: 0.5px 0.5px black;
}
#err8 {
  align-content: center;
  position: absolute;
  font-weight: bold;
  font-size: 15px;
  top: 20px;
  left: 40px;
  border-color: white;
  border-radius: 3px;
  text-shadow: 0.5px 0.5px black;
  overflow: hidden;
  text-transform: uppercase;
}
#atmmac {
  align-content: center;
  margin: auto;
  height: auto;
  width: fit-content;
  background-color: #fff;
  padding: 10px;
}
.well8 {
  align-content: center;
  font-weight: bold;
  color: Black;
  position: absolute;
  font-family: "Montserrat", serif;
  left: 25px;
  text-transform: uppercase;
  top: 4px;
  text-shadow: 0.5px -1px 1px black;
}
.box1,
.pass {
  align-content: center;
  border-style: solid;
  border-color: black;
}
#cash1 {
  position: absolute;
  height: 20px;
  width: 120px;
  background-color: #fafad2;
  border-color: black;
  border-style: solid;
  border-width: 3px;
  left: 2.23px;
  align-content: center;
}
#bill {
  width: 260px;
  height: 160px;
  position: absolute;
  background-color: black;
  position: absolute;
  font-weight: bold;
  font-size: 15px;

  align-content: center;

  text-shadow: 0.5px 0.5px black;
  overflow: hidden;
}
#succ {
  position: absolute;
  font-weight: bold;
  font-size: 25px;
  left: 65px;
  color: white;
  align-content: center;
  text-shadow: 0.5px 0.5px white;
  overflow: hidden;
  text-transform: uppercase;
}
#succ2 {
  position: absolute;
  font-weight: bold;
  font-size: 15px;
  align-content: center;
  top: 70px;
  left: 10px;
  color: white;
  text-shadow: 0.5px 0.5px white;
  overflow: hidden;
  right: 10px;
}
#indicator2 {
  height: 38px;
  width: 153px;
  background-color: grey;
  left: 92px;
  position: absolute;
  top: 16px;
  border-style: solid;
  border-width: 2.5px;
  animation: dlr 0.5s infinite;
  align-content: center;
}
@keyframes dlr {
  0% {
    background-color: red;
  }

  100% {
    background-color: grey;
  }
}
#light {
  align-content: center;
  height: 3px;
  width: 3px;
  border-radius: 50%;
  border-style: solid;
  border-color: black;
  border-width: 2px;
  position: absolute;
  top: 3.5px;
  left: 22px;
  animation: blr 0.5s infinite;
}
@keyframes blr {
  0% {
    background-color: #ff0000;
  }

  100% {
    background-color: green;
  }
}
Output:
Image output: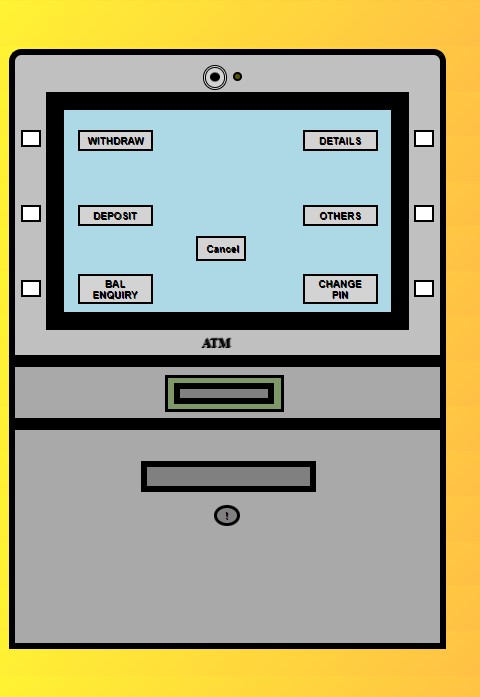 Video output:
---
Also Read: