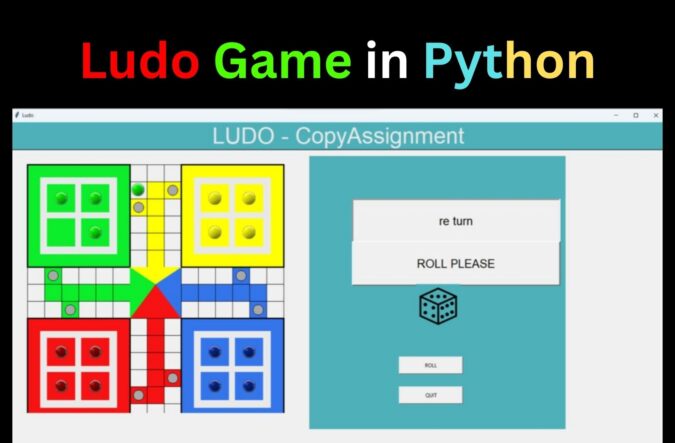 Today we are back with one another fantastic article on game development articles in Python. In this article, we will talk about and learn about Ludo Game in Python. We will provide you with the complete source code along with a brief explanation of each function, method, or class that we use to develop this program.
Well, talking about the game, each and every person might have played this Ludo game in their life. Just imagine, nowadays, if you want to play this game then you need to install an application for it. Now, what if today we develop our own Ludo Game in Python with source code? So that whenever you want to play, you just need to open the GUI and simply start the game. So let us begin with the development of the Ludo Game in Python.
Basic Idea
In this game, basically, there will be 4 players. Each player will have to choose their color and play along till the end. Each player will get a chance to roll the dice and on getting 6 dice the player will take his or her token out of the house. Each player will have to his/her all four tokens to the destination which on the center of the playing board of the Ludo Game in Python. The winner will be the player who manages to take all his or her tokens to the destination in the first place.
Features
Before starting with the actual coding for the game let us take a look at all the basic features that we will add to this game and then we will move on to the coding part.
A list of rules
A dedicated window for users to add their name as per the color
Instruction panel to inform the user about whose turn it is
A display of numbers on dice
Complete Code for the Ludo game in Python
We have divided our code into three different files. This is done in order to handle many variables in a proper manner.
main.py
setting.py
This file will handle the variables for various color schemes that are used in Ludo Game in Python and also top handle the board patterns, size, and movement of tokens
board.py
This file is added in order to handle the overall logic of the board in the Ludo Game in Python.
Reference Materials
NOTE: Make a folder named assets and in that folder add all the below-given images
Images for 4 Tokens
Images for Dice
Sound for Rolling Dice
Output for Ludo Game in Python:
Summary
Here is the end of our article on the Ludo Game in Python with source code. All in all, we learned about the various functions and used various libraries. We hope this tutorial turns out to be a great source of learning for you and we staunchly believe that it will definitely help you to boost your resume. In this development of the Ludo Game in Python, we also learned about handling the movement of objects and also some designing part. We thank you for visiting our website.
---
Also Read: