Programming Hub, SoloLearn, Mimo, and more are the best coding apps to learn Python in 2022
Hello Friends, welcome to copyassignment.com. In this tutorial, we are going to see the best app to learn python programming from various applications through which we can learn python easily if you are interested in python. If you are eager to learn python and want to learn to get some valuable knowledge in python then just go through my tutorial till the end. In this article, I am going to tell you about some best free python programming apps. These apps are a great source of learning python.
Although there are various ways of learning python from various other sources such as youtube or crash courses the important part is getting practical knowledge. Hence the best way to learn python is through free python apps because they provide a practical way of learning the python programming language.
Here is the list of the best 8 Apps To Learn Python Free In 2022:
Mimo-Learn Python
Programming Hub
Programming Hero
Sololearn-Learn Python
Learn Python-Programiz
Learn Python Programming Tutorials App
Python Programs Exercise App
Enki-Learn Python App'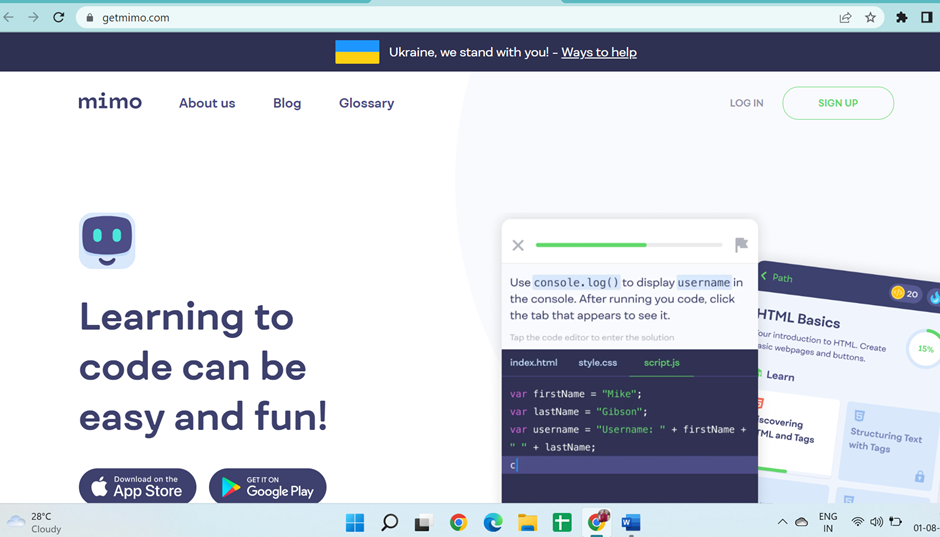 Mimo is an interesting app to learn python programming languages. Mimo app is very simple and provides in-depth knowledge, is easy to understand, covers most of the python topics, is easily available in the market, and, is loved by many python programmers.
It is having interactive exercises. You can work on real-time projects using this app and set and accomplish your goals. You can also do web development using this app. Hence you can do many things using this app.
The programming hub as the name indicates is the hub of learning the programming languages. This is a beginner-friendly app. The one who has begun to learn python from scratch can start learning python from here. There are several exercises that help in learning better and faster. The puzzles present in this app make it fun to learn.
The app provides good quality learning. It has many python ready-made programs to learn. You can also get a certificate after the completion. The good quality user interface makes it user-friendly to learn. Along with this, you can do many things such as machine learning, and application development using this app. You can easily download this app from the play store by searching Programming Hub.
The programming hero is a fun way to learn apps by playing games. The children interested in learning python can easily learn by solving puzzles and exercises. The kids can easily learn python from this app as it provides an interactive way of learning python. They also provide video tutorials to learn app development or website development. The best app for kids to play and learn.
You can get many things to learn from this app and can easily download it from the play store or app store by searching Programming Hero.
One of the best python learning apps is nothing but the solo learn python. This app provides the best way to learn to code. This app provides many exercises to solve after completion of each topic in python. It is having many python tutorials for easy and better understanding.
The sololearn -learn python is the best free python app to learn python or any programming language. I would recommend this as a priority as it covers the python topics from basic to advanced is having the built-in python compiler and has a big community to help learn python.
You can also get the certificate after completing the course. You can easily download this app from the play store by searching with the name sololearn.
The learn Python Programmiz is another interesting app to learn python for free. This app provides quizzes and challenges to solve after covering each python lesson. It provides all the python tutorials up to an advanced level.
This free app is easily understandable to all python beginners, the practical projects and interactive code editor in this help to write the python code onto the editor. Hence it is a great app for learning python. This app is having a lot of in-depth knowledge for python lovers. You can get all of its contents by downloading it from the play store by searching it with its name Learn Python-Programmiz.
6. Learn Python Programming Tutorials Apps
This app has complete python programming tutorials from the basics level to the advanced level, It is having everything about the python study materials, python practice examples, etc. The layout of the app is extremely simple to understand and has the interactive python compiler to write the code. This app has many python resources for many python developers and also provides a lot of questions and exercises for practicing.
Hence there are lot many things you can learn from this app, for that you must download this app from the app store by searching with their name or visiting their website.
The python program exercise app is an app a python developer can you use for mastering their python skills. As this app provides more than 1000 exercises and challenges to solve to get a deep insight into python. It provides a complete set of python data structures, arrays, strings, lists, and many things to learn.
The one who wants to learn python in depth can download this app from the play store or you can also visit their website Python Programs app.
Another awesome app to learn python is the Enki learn python app. This app has a great User Interface and layout making it super interesting to learn python. It covers all the topics of python from beginning to advanced. As this app has versions free and paid you can choose which one you want to go. The free version allows you to get the content of the topic but it doesn't provide any access to the exercises on python. If you take the paid version you can get access to all.
Hence this app has a lot of interesting content you can download this app from the app store or search for it from the website.
What is the best app to learn Python Programming?
As we have come across many python apps in this article I would recommend going for sololearn as this app is beginner friendly and helps the learner to learn python programming skills in a faster and better manner. While it does not mean that other python apps will doesn't provide any knowledge or practice. It's up to each one of their personnel opinion how you find any particular app.
You can also visit the other apps for reference as each app will help you get into a different experience while learning python.
Conclusion
Hence, here I covered the topics of the best app to learn pythons, You can visit all the python apps, and keep the one for learning which you find easy and interesting and helps you gain knowledge.
There are various python learning apps that will help you in gaining python knowledge in a practical way but not all the apps are loved by python developers. Here, we have discussed some of the best apps which will be useful to most python beginners and can be easily downloaded from the play store and easily available on any mobile operating system as well. These apps can be used on both android and ios operating systems.
I hope you found this article beneficial for you. For more articles on python keep visiting our website.
Thank you for reading this article, click here to start learning Python in 2022.
---
Also Read: